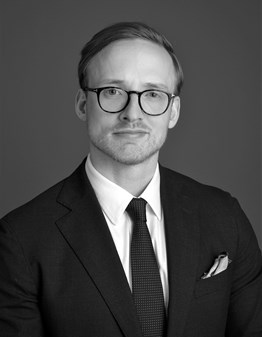 Download CV
Areas of expertise
Banking and finance, Asset management, Payment services, Credits and Anti-Money Laundering (AML)
Nils Elner is specialized in financial regulation, especially in the areas of payment services, credits, securities, asset management and AML. Nils has been active within the field since 2016 and frequently represents financial institutions which are supervised by the Swedish Financial Supervisory Authority (Sw. Finansinspektionen), such as payment institutions, credit institutions, investment firms and fund managers in matters relating to regulatory compliance.
In his daily work, Nils provides advice in a variety of matters relating to authorizations with the Swedish Financial Supervisory Authority and in various implementation projects as well as corporate and contract law issues.
Nils has held the position as Senior Compliance Officer at one of Europe's leading payment service providers.
Harvest Advokatbyrå AB
Senior Associate 2021-
Bambora AB
Senior Compliance Officer 2020-2021
White and Case Advokat AB
Associate 2018-2020
White & Case Advokat AB
Junior Trainee 2016-2018
Stockholm University, Sweden
LL.M 2019
University College of London, UK
LL.M. 2015
University of Essex, UK
LL.B. 2014
Swedish

English



The End of Pre-packs? An Analysis of the Legal Landscape in which Pre-packs Operate and the Failures of Graham's Proposals – Part One (International Corporate Rescue), 2015

An Analysis of the Legal Landscape in which Pre-packs Operate and the Failures of Graham's Proposals – Part Two (International Corporate Rescue), 2015

More emplyees >>